Performance Suspension Technology -
Brake Lines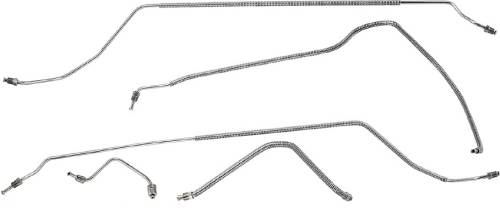 All the curves are in the right places! Preformed and designed with computer precision in 304 aircraft quality stainless! Pressure tested to 6000 psi burst. Complete from the Master Cylinder to the individual Wheel Cylinders with stainless fittings and gravel guards (if applicable). These kits contain all the Steel Brake Lines to completely restore your brake system. They are preformed and ready for installation.
Replace your O.E. hoses without the need for adapters or modifications, virtually no expansion or contraction occurs giving you immediate brake pedal response! These hoses meet or exceed Federal regulations. Colors Available!
---
More About
Brake Lines
---
Today we'll be talking about Pre-bent stainless steel brake lines. Many times these items can be overlooked during a restoration or general maintenance of your muscle car.
---